CONTACT adriaans.ingrid@kpnmail.nl
WEBSITE ingrid-adriaans.nl

INSTAGRAM adriaansingrid


LIFESTORY




Water has always played an important role in my life. I was born in Middelburg in the southern province of Zeeland in the Netherlands. This province consists mainly of Islands en and peninsulas that are connected by bridges and dams. I am the youngest in a family of six, three brothers, my parents and me. Although not a lot of attention was paid to art in our family, everyone is very creative. My father was besides a metallurgist a good sculptor. My mother took care of the children and also did all kinds of home crafts such as quilting and knitting. All my brothers are very skillful misicians and are also painters. So in one way or another we are all creative.
I grew up largely on the water. With the whole family, our two dogs and a parrot on the roof we sailed over the rivers and canals in the Netherlands and later to England, Belgium and France. In the spring the whole family did maintanance on the boat together before we could get on the water for the summer. My big wish as a child was to sail around the world with my own sailing boat. At the age of 23 I met Marcel, my life companion, and after a few years of hard work we left for 5 years for a trip around the world with our self-built sailboat. It was a fantastic adventure that helped shape me into who I am today. In the last year of our trip our daughter Maartje was born on the Canadian west coast and eighteen months later in the Netherlands our son Coen. Marcel quickly returned to work. I occasionally worked in healthcare and mainly took care of the children. After my work in the hospital I worked for more than ten years as a social nurse in Public Health, of which 6 years in the Soa AIDS control. After eleven years I had had more than enough of all the reorganisations and management changes and switched to Buurtzorg where I started as a home care nurse in the elderly and palliative care. Working in a self-managing team gave me a lot of rest and gave me the opportunity to do what I had always wanted: a study at the art academy. Because I continued to work besides my studies, I started a part-time study in Fine Arts at the Royal Academy of Art in The Hague in 2016.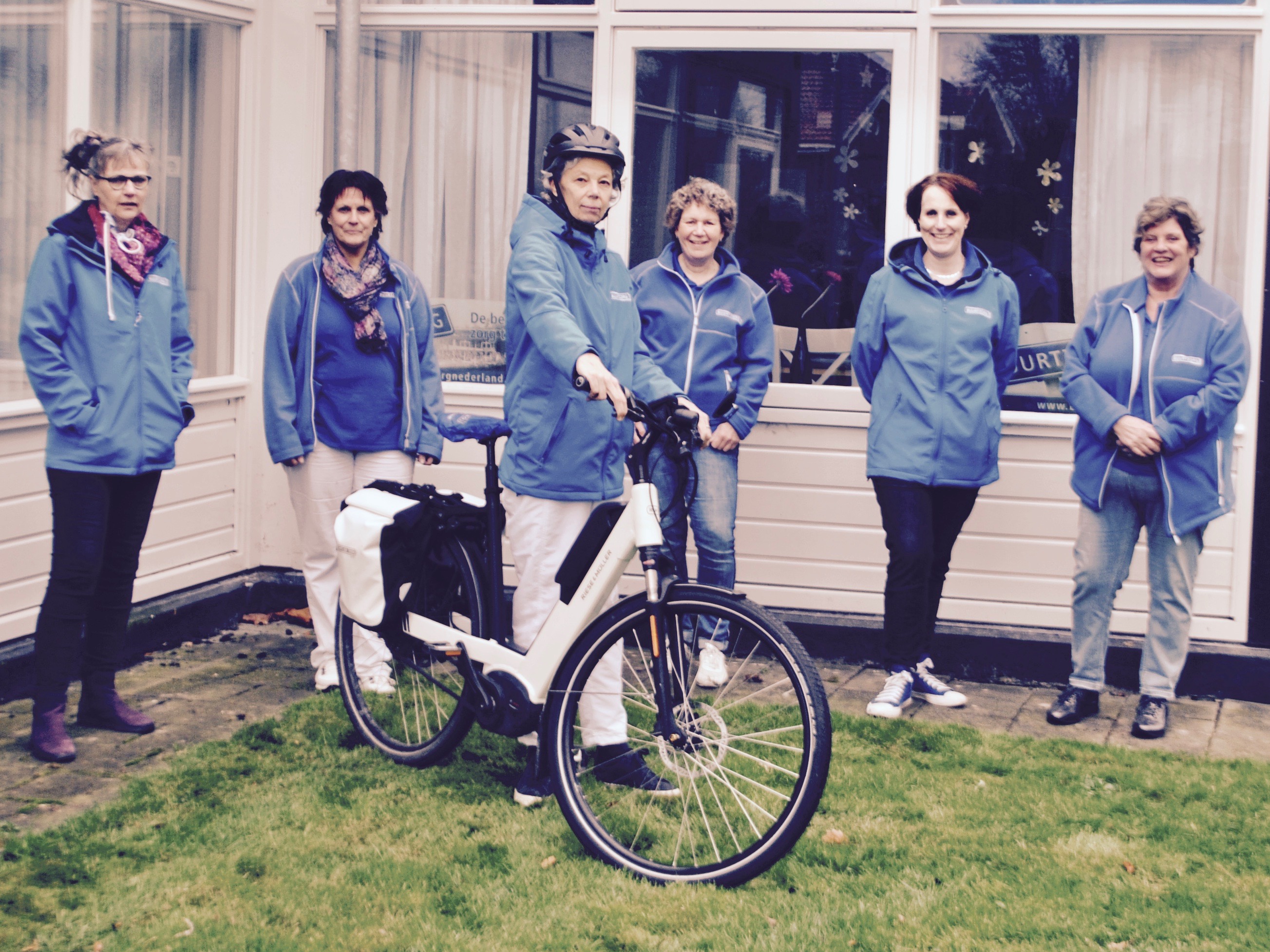 BUURTZORG TEAM BINNENMAAS 2
There are several events in my life that have a major impact on the artist I am today. In the first instance, that is our world trip. The freedom we had during our journey is now unthinkable. The people, cultures, religions, landscapes and cities we saw are a rich source of inspiration. In addition, my work in healthcare plays an important role. Working with the elderly in their final stage of life has a lot of influence on my work as an artist. I often work with themes such as self-reliance, loneliness and dependence. I have often wondered why I mainly focus on performance art? I never expected that when I started my studies. I remember how exciting it was to look behind the scenes at the rehearsals of my parents, who were both on the amateur stage. This world of theater and the adventure of the unpredictable has always drawn me. I apparently need the tension that you don't know exactly how things will go and what will appear on the horizon.
JULY 2021
THE ARTIST, performance, DOOR DORDRECHT

JULY 2021
WHITE FLAG, performance/animation, presentation, DOOR Dordrecht

APRIL 2021
REVALUATION, performance, ALL INN, HEM, AMSTERDAM
MARCH 2021
ONLY THE DOGS DANCE AT NIGHT, video performance, City Centre, Dordrecht

JANUARY 2021
INDISTINGUISHABILITY 3, video performance, DOOR, Dordrecht
DECEMBER 2020
INDISTINGUISHABILITY 2, solo performance, City Centre of Dordrecht
DECEMBER 2020
RETARDATION, solo performance, Binnenhof, The Hague

OCTOBER 2020
INDISTINGUISHABILITY 1, solo performance, Dordtsche Bieschbos

SEPTEMBER 2020
ONE HUDRED AND THREE, Installation and solo performance, Graduation Show, Royal Academy of Art, The Hague

JULY 2020
GRADUATION
BACHELOR OF FINE ART, section Autonoom, Royal Academy of Art, The Hague

MAY 2020
HABITAT, Series of life performances, City Centre of Dordrecht

MARCH 2020
WALKING THE DOG, solo performance, Roayal Academy of Art, The Hague

JANUARY 2020
CO-CREATION LIFE FACTORY, Residency Program, Dissenting Bodies Marking Time, with Vest & Page (Verena Stenke and Andrea Pagnes), Marianna Andrigo and Aldo Allipradi, Guillermo Gómez-Peña.
- SOAP solo performance, Plazzo Mora, Venice.

-

PERFORMANCE OPERA, Plazzo Mora, Venice

DECEMBER 2019
NOTE TO SELF, Pre-Exam Show Royal Academy of Art, group exhibition.
- DRAG, solo performance, Billytown, The Hague.

OCTOBER 2019
SHAPE, solo performance, Roayal Academy of Art, The Hague



JULY 2019


PROJECT ID, Residency Program: Performance Site The Hague, with Vest &Page (Verena Stenke and Andrea Pagnes), Marilyn Arsem and Jolanda Jansen
- PERFORMANCE OPERA, Maakhaven, The Hague
- CARE FOR YOU, Performance with Tess Martens and Philemon Mukarno, The Helena, The Hague.



MAY 2019


MY THERAPIST SAID, group exhibition.
- IN-BETWEEN, solo performance, The Helena, The Hague.

APRIL 2019
ENCOUNTER, solo performance, The Hague Central Station.

FEBRUARY 2019
IS IT SUNNY OUTSIDE?, with Italo Zuffi, group performance, The Hague Central Station and Royal Academy of Art The Hague.

FEBRUARY 2018
ONE HOUR OF TOGETHERNESS, with Italo Zuffi, group performance, Royal Academy of Art The Hague.

JULY 2009
GRADUATION
BACHELOR OF HEALTHCARE, HBOV Maatschappelijke Gezondheidszorg, Haagse Hogeschool, The Hague
2015 TO TODAY

HOMECARE NURSE, BUURTZORG Team BINNENMAAS 2, Maasdam

2004-2015
PUBLIC HEALTH NURSE, Municipal Public Health Service (GGD ZHZ), Dordrecht

1999
BOOKPRESENTATION
VIJF JAAR ZEILEN IN DE SCHADUW VAN DE MAAN, Ingrid Adriaans, Publisher Heijnen BV, Rotterdam

MAY 1991-OCTOBER 1996
WORLDTRIP BY SAILING BOAT
HOME